Cooking and I have a complicated, hot-and-cold relationship.
I love cooking, but cooking is so much work.
I have a lot of fun with cooking, but sometimes I just don't have the time it needs.
The last time cooking and I got together, it was a huge mess!
You get the picture.
If you ask me, cooking is an essential part of living a PCOS-friendly lifestyle. Being dependent on manufactured food products and restaurants – no matter how healthy they claim to be – is not an ideal choice for women living with Polycystic Ovarian Syndrome.
A good PCOS diet is based on whole foods. Some women do great with paleo and others thrive while being a vegetarian. The common thread is always one thing: real foods over food products.
Worried about time, budget, or general kitchen anxiety? Don't be!
I'm going to show how you can use freezer cooking to overcome the most common PCOS diet obstacles. Plus, I made a complete PCOS Freezer Cooking Plan, complete with a grocery list. Download it now and start using it this week!
Freezer Cooking for a Better PCOS Diet
"Freezer cooking" is a term used to describe the process of cooking multiple meals at once and storing them in the freezer for future use.
One major benefit to freezer cooking is that you get your kitchen good and messy just once instead of every night. When you have a kitchen and an entire apartment that are entirely white (like I do), this is a huge plus.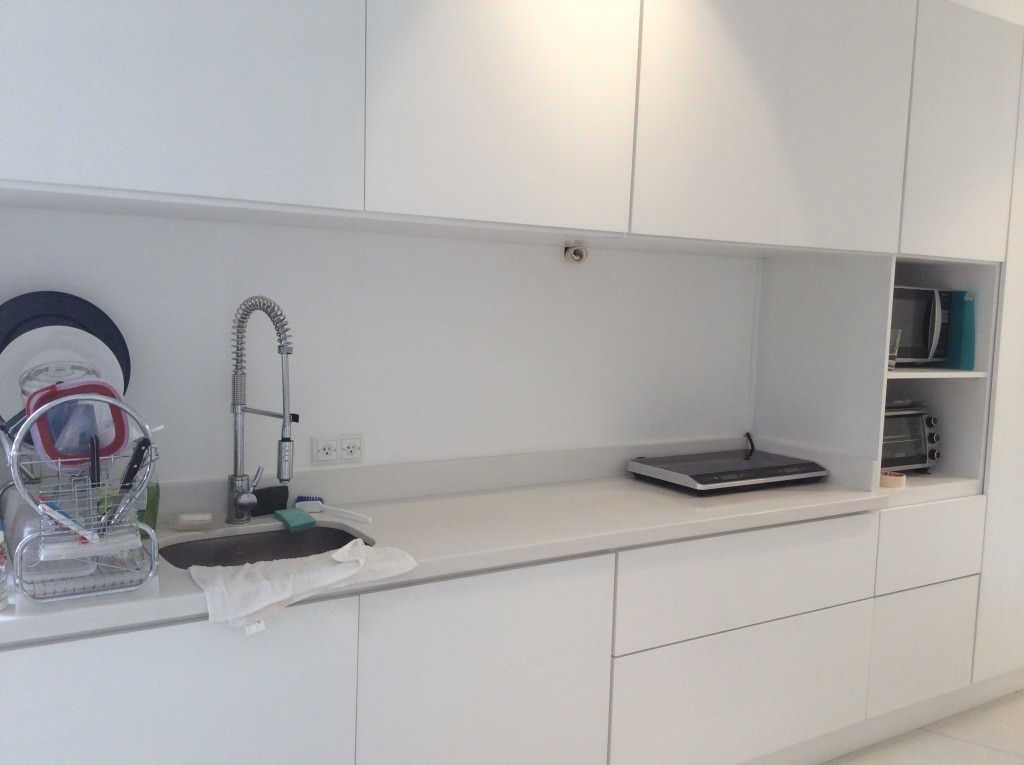 Freezer cooking also leverages the assembly line principle. You can chop all your veggies at once while all your meat is marinating. It also gives you the option to cook when you have the time and energy. I mean, who wants to strap on an apron after a 10-hour workday?
You can live off freezer cooking or just use it to cover weeknight dinners. You'll need to explore your options. As I already mentioned, my primary aim with freezer cooking is to avoid kitchen clean up. So I cook or prep all of our meals for the week every Sunday after church.
I would love to experiment with once-a-month cooking, but my simple kitchen set-up makes such an achievement out of reach. The humble kitchen in our tiny beach bungalow consists of a small counter space, crock pot, microwave, two electric burners, a toaster oven, and limited freezer space. But if you happen to have a mega-kitchen, you can totally crush this freezer cooking thing. It's time to put your double ovens and a four burner range to good use!
Making Your Own Freezer Cooking Diet Plan
To ensure success, you must spend some time planning your cooking day. Do not skip this step – disaster will ensue!
Start by deciding how many meals you want to cook in one day. Are you going to prep 3 square meals for each day of the week or just Monday-Thursday night dinners? Then multiply that by the number of servings you need for each meal. For example, a family of four needs 20 servings of dinner to get through the work week.
Next, you want to seek out healthy entree recipes for each meal. I like to use a meal planning app called Once a Month Meals. For a small subscription fee, you can get the ultimate freezer cooking game plan – just select the recipes and the app will help you pull together a grocery list and step-by-step instructions. You can choose many different menu options. I like the Paleo, Real Food, and Instant Pot choices.
Tips for recipe selection:
Select recipes that utilize all of your heat sources: some for the oven, crockpot, stove top, and grill. That way you can cook several entrees at once.
Choose simple recipes you know that you like. Save fun, new recipes for dinner parties and leisure cooking.
Select recipes that use in-season produce.
Remember your dinner will need sides. I recommend including a serving of leafy greens and another colorful veggie with every meal.
It's Time to Cook!
Get dressed for the occasion. Put on your comfy clothes and pull back your hair. Comfort is important! Turn on the radio and tie on your apron. Seriously, wear an apron – no one cooks five entrees at once without spilling a little.
Prepare your kitchen. Remove all necessary items from the kitchen counter. I even stow the coffee maker and toaster in a cabinet. Counter space is critical!
Take stock of your storage. Make sure you have the freezer space you need. If necessary, clean it out and reorganize. Have plenty of BPA-free glass storage containers. I really like Pyrex for my hot foods and mason jars for salad greens and sauces.
Write a detailed to-do list. Gather all of your recipes in one place like an iPad or a notebook. Instead of cooking one recipe at a time, group similar tasks together. I like to write the whole process down in a master to-do list so I can keep on task. Here is how I organize my process:
If you are using a crock pot, start that recipe first so that it is done cooking before bedtime.
Marinate and dry rub all meats, set aside in the fridge, and disinfect your workspace.
Preheat the oven.
Wash and chop all of your veggies. Set the cutting board next to the sink so it's easy to wash produce as you cut. I recommend using a homemade produce washing solution. Lay salad greens out to dry on a towel somewhere out of your way. Once dry, store them in a mason jar.
If anything needs to be blended or run through the food processor, do that now. Then wash and store your food processor. Again, the idea is to keep your workspace uncluttered.
Cook and store any whole grain side dishes like quinoa or beans.
Start cooking: put entrees in the oven and then move on to anything you need to cook on the stove top or grill.
Store your hard work in the freezer and clean up.
More Freezer Cooking Tips
Cook double batches. Colin and I have no problem eating the same dinner twice in a week. However, as my system has evolved, I've been able to maintain an inventory of freezer meals so we often eat dinners that I cooked 2 or 3 weeks ago.
Keep it simple. I have a standard format for our meals, which makes planning a breeze. We eat a green salad, a protein-based entree, and roasted or steamed veggies with every meal. Most weeks we eat the same salad and veggie dish every night. Standardizing the menu keeps things simple and nutritious.
Avoid storing food in plastic. This research study found that women with PCOS might be more vulnerable to exposure to BPA, a chemical found in many plastic household items. Plastic containers may cheap, but in my opinion, they're not worth the risk.
Freezer cooking takes some getting used to. So, if your first try is not perfect, don't sweat it! I have seen people use freezer cooking with great success. It's an effective way to improve your diet and save time – two things that normally don't go together.
Go ahead and grab my PCOS Freezer Cooking Plan. It has everything you need to get started: a menu, shopping list, and cooking instructions.